UAVs are becoming an increasingly common tool in development and humanitarian programs, with a gradual shift towards more scaled operations. Like all other technologies and tools, the case must be made regarding return and value for investment in UAV deployments. Ultimately, appropriate uses of UAV technology should deliver superior program outputs as compared to alternative methods of data collection.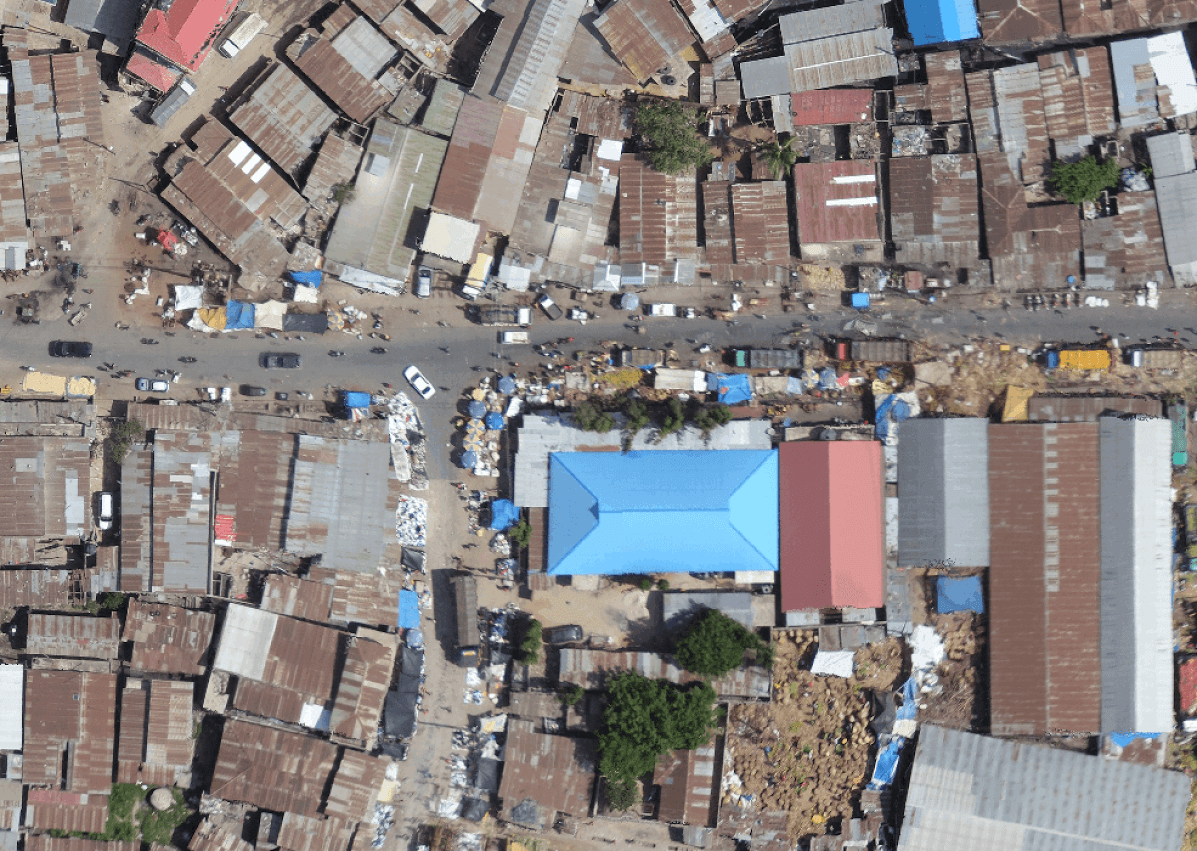 Credit: Mark Iliffe; Dar es Salaam, Tanzania
UAV & Development Sectors
UAVs intersect with broad sets of stakeholders, whose needs and positions should be identified as part of a complete planning process. These include local communities who are surveyed; local and national governments; and an assessment of in-country readiness and capacity to manage UAV deployments. Generally, in-country UAV equipment and processing capabilities are improving and becoming more common, meaning that the barriers to incorporating UAVs in projects are decreasing over time. UAVs have the potential to support progress across most of the SDGs, and are situated to play a role in improving lives around the world for decades to come. At this juncture, use cases are still being tested and analyzed, making it an exciting moment to participate in establishing the road ahead for UAVs, development, and humanitarian aid.
UAVs have applications across many different development sectors. Generally, practitioners turn to UAVs to provide actionable information during each stage of a project's development: from project planning to operations, communications, and monitoring.
UAV Applications by Sector
Agriculture

Most Common Uses

Accurately evaluating crop health
Distinguishing different crop varieties from one another
Making "big picture" assessments of land areas that are too large to quickly survey on the ground
Tracking and collecting livestock scattered across large geographic areas
Enabling crop spraying without the expense of hiring a manned aircraft or the danger of handling dangerous chemicals

Future Trends

Enabling agronomists to make more accurate crop growth projections
Identifying crop pests and areas of infestation
Dropping seeds from UAV platforms
Education

Most Common Uses

Fostering interest in science and technology in universities and in some lower-level programs
Helping students learn transferable skills by building "Do it Yourself" UAVs, both in class and in extracurricular and research projects
Students who know how to build and fly UAVs can then use these skills to secure good jobs in technology, and to create their own businesses.



Future Trends

Increase in the use of inexpensive DIY UAVs in the classroom, as a means of teaching engineering and electronics skills.

Schools with access to a UAV (or two) can use the data collected to do projects in geography, cartography, journalism, and other areas that are not explicitly rooted in engineering and in STEM
Developing UAV industry means students with these specialized skills will be at an advantage in the job market
Energy & Extraction

Most Common Uses

Conducting power line, pipeline, flare stack and wind turbine inspections at a greatly diminished expense and risk to technicians
Surveying existing mines in 2D and 3D; quick volume calculations
Mine planning
Efficient offshore oil and gas rig inspection

Future Trends

Seeking new mining and oil field sites over large, inhospitable areas (and identifying existing artisanal and small-scale sites)
Improved gas emissions monitoring
Earlier oil spill detection, over large areas
Soil sample collection and delivery, and other delivery functions focused on smaller and lighter objects
Site security management and support
Environment & Natural Resources

Most Common Uses

Wildlife monitoring and surveys, both by reserve rangers and scientific researchers
Detecting illegal deforestation in protected areas
Mapping different forest types, and monitoring logging efforts
Monitoring world impact of global warming, such as changes in sea ice
Collecting data about volcanic emissions
Ongoing monitoring of forest fires

Future Trends

Spotting and deterring wildlife poachers over large protected areas
Multi-year use of UAV imagery may aid in spotting macro-trends in climate change
Monitoring fisheries and protected marine areas
Collecting water, soil, and other biological samples for research
Tracking trends and changes in urban air pollution
Governance

Most Common Uses

Cadastral surveying in areas with outdated or non-existent records
Crop loss and property damage assessments for insurance payouts
Data to hasten financing for roads and other construction projects

Future Trends

Increased adoption by insurance agencies across different sectors
Regular cadastral surveys, at a lower cost than required by manned aircraft or satellites
Health, Nutrition & Population

Most Common Uses

Agricultural monitoring for food security purposes
Searching for mosquito breeding areas, as part of efforts to quash mosquito-borne illness
Some early warning systems for stressed crops, allowing farmers to respond quickly before crop failure takes place
Quick aerial settlement and population counts and evaluations, without expense of satellite imagery or manned aircraft
Early experiments with release of sterile or otherwise treated insects to combat pests

Future Trends

Increased use of UAV technology for epidemiological research and mapping
Delivery of lightweight medical supplies, and quick transfer of blood samples and medical tests from remote locations to testing centers
Transport of organs from one location to another
Use of sophisticated multispectral imagery for evaluating plant nutrition
Macroeconomics & Fiscal

Most Common Uses

UAVs have yet to be used to further program agenda in this sector

Future Trends

Delivery of financial documents and other physical documents in areas without access to roads
Monitoring migrant movement across favored ocean crossings
Reliable crop and agricultural forecasts, improving economic forecasts
Inexpensive inspections for faster property and infrastructure repairs
Social Protection & Labor

Most Common Uses

Track migrant movement across Mediterranean
Dangerous jobs, such as oil rig and power line inspection

Future Trends

Inexpensive civilian UAVs can be used to document human rights violations, illegal actions by private companies and other actors, and government excesses
Inspecting businesses and individuals suspected of using slave labor
Recording work-site violations by employers
Poverty & Equity

Most Common Uses

Inexpensively detecting illegal use of land claimed by indigenous people, minorities, and other disempowered groups
Enabling creation of updated cadastral surveys
Speeding creation of updated maps of swiftly-growing urban areas, helping city services expand to more residents

Future Trends

Increased use of UAV imagery for mapping temporary settlements, IDP camps, and expanding urban areas.
Improved documentation of land rights for populations subject to "land-grabbing" risk
Inexpensive source of aerial data and information, accessible to groups unable to afford or access relevant data
Creation of accessible technology jobs with lower barrier to entry
Social Urban Rural & Resilience

Most Common Uses

Immediate post-disaster mapping, hastening damage assessments
Search and rescue sweeps in aftermath of disaster
Mapping in months and years after disaster, smoothing rebuilding efforts
Collecting predictive data, such as flooding estimates, forest fire risk factors, and risk of bridge collapse based on stream and river debris

Future Trends

Reliable land mine detection at less risk to human surveyors.
Creating high-quality pre-disaster baseline maps for at-risk areas.
Radiation mapping in areas near nuclear sites
Trade & Competitiveness

Most Common Uses

New jobs with a lower barrier to entry than traditional aerospace
Participation in global market for both UAV hardware and software

Future Trends

Employment opportunities in a variety of industries (entertainment, construction, hobby, energy and extractive, surveying, research)
Competitive global market fuels technological innovation
Transport & ICT

Most Common Uses

Road and bridge inspections and evaluations
Railway inspections
Surveying in advance of new road and railway construction

Future Trends

Development of large unmanned aircraft capable of transporting humans
Tests of delivering cellular data to under-served areas from airborne UAVs
Creation of UAV delivery networks, moving from one "droneport" to another
Moving smaller cargo from large ships to port areas
At-sea emissions detection
Water

Most Common Uses

Evaluating climate-change based glacial melt and potential impact on future water supplies
Mapping at-risk areas to aid flood prevention and mitigation efforts
Irrigation monitoring for agriculture
Monitoring water supplies and water levels during drought conditions

Future Trends

Efficient water sampling & sample delivery for water quality evaluation
Monitoring and controlling damaging algae blooms
Accurate crop monitoring with UAV imagery can help farmers pinpoint where water is needed most, reducing their overall usage